Treasure Hunt - Paul Lamond Games, 1989
The Treasure Hunt Game is based on the Treasure Hunt TV show which started on Channel 4 in the late 1980's, starring Anneka Rice. It was published by Paul Lamond Games in 1989.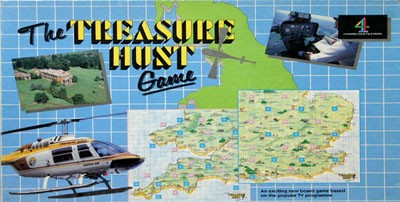 The game recreates the show rather well. Contestants in the studio had to solve clues which led to various locations and then give instructions by radio message to Anneka Rice as she travelled around these same locations by helicopter. The object of the game to be the first player to successfully visit 5 different locations, as in the TV show. Players receive clues from the location cards and instructions from the radio message cards. Movement around the board is determined by answering the location questions and throwing the die.
Game Details
Game: Treasure Hunt
Company: Paul Lamond Games
Players: 2-24
Year: 1989
Game Contents
A fully complete game will have the following contents. Please note that the exact number of location cards and radio message cards are not listed in the rules. The numbers below are based on my own research.
1 double sided game board (split into 4 sections)
6 playing pieces
6 clue card wallets
396 double sided location cards
36 radio message cards
1 die
1 set of rules
Buy This Game
Price: From £30 plus postage.
Check availabily of this game on the "Buy A Game" page.