Airways - Parker, 1972
Prepare to take off on the world's most authentic airline game. Radio calls, emergency landings, radar approach, air traffic control, it's all here! The Airways board game was published by Parker in 1972.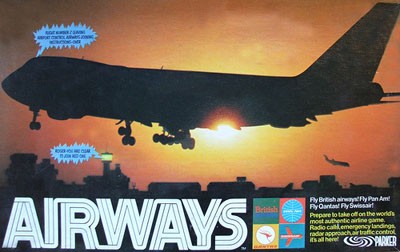 The object of the game is to fly as many passengers as possible from your home airport to the destination airport on the main board. The first player to disembark the passengers from all 4 of his flights ends the game and the winner is decided by the Air Traffic Control, depending on the number of passengers each player has managed to land.
Game Details
Game: Airways
Company: Parker
Players: 2-4
Year: 1972
Game Contents
A fully complete game will have the following contents.
1 game board
4 home airport playing boards
1 air traffic control console (with instructions for zone nine)
1 pilot's radio calls/air speed indicator board
16 aircraft (4 red, 4 green, 4 blue, 4 yellow)
32 incident cards
60 passenger cards
80 air traffic control instruction cards (6 zone one, 11 zone two, 10 zone three, 8 zone four, 8 zone five, 8 zone six, 8 zone seven, 12 zone eight, 9 zone ten)
1 set of rules
Buy This Game
Price: From £30 plus postage.
Check availabily of this game on the "Buy A Game" page.